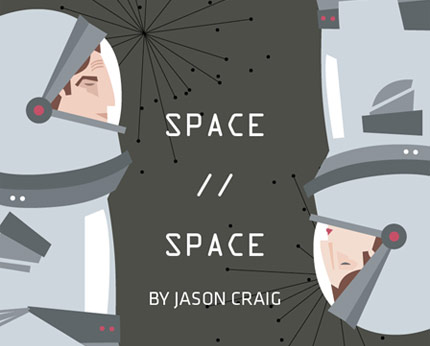 Thanks for joining us for SPACE// SPACE!
"I don't know how you find these scripts, but if you made a deal with the devil, keep dealing with him. NLT is so innovative. I love that with each show you can take what you want from it. They aren't super preachy with a message, but not so Avant Gard that you are lost and saying WTF." – NLT Patron
Here's what the critics have to say
Vue review
Edmonton Journal review
"Seldom does a play come along that is so passionately, thoroughly, unapologetically weird." - Vue Weekly
Today is Giving Tuesday!
Northern Light Theatre is a registered charity and non-profit organization.  As you celebrate the holidays, consider including NLT in your giving.  Every little bit helps.
Stuff Someone's Stocking with NLT
Do you have a loved one who will enjoy "The Pink Unicorn" and "Christina / Philippe"?  Give the gift of theatre! (Or stuff your own stocking with NLT tickets- Santa won't mind)
Northern Light Theatre has mid- season subscriptions for sale.  See the remainder of our season for reduced prices:
$24.00 (Preview Night Subscription)
$32.00 (Student/ Senior Subscription)
$40.00 (Booty Call Subscription)
$44.00 (Adult Subscription)
$50.00 (Opening Night Subscription)
Call Northern Light Theatre at (780) 471-1586 to purchase a mid-season subscription today!
Come Get Jolly with Us!
Northern Light Theatre's Christmas Party and Holiday Open House
We'll be waiting for you under the mistletoe!
Northern Light Theatre's Christmas Party & Holiday Open House
Wednesday, December 17, 2014 12:30 pm- 6:00 pm
NLT office:  #201, 8908 99 Street, Edmonton (above Wild Earth Bakery)
Guarantee a spot on Santa's Nice List: VOLUNTEER with Northern Light Theatre
Northern Light Theatre is looking for ten wonderful volunteers for our December Bingo on Wednesday, December 10 from 11:00 am- 3:45 pm at Caesar's Bingo in West Edmonton Mall.

NLT volunteers will be treated to delights of Caesar's Bingo including great people watching, guaranteeing a spot on Santa's Nice List (and NLT's Nice List too) and a killer calf work out that will have your cardio covered for days.

We'll also hook you up with a free ticket to one of our shows in our 2014-2015 season AND an exclusive invite to our awesome Volunteer party (WHAT? THAT'S NEW... Yep, we are going to have parties now... BECAUSE WE LOVE YOU).

WHO: You, me and 8 of our friends.
WHAT: Bingo
WHEN: Wednesday, December 10, 2014 from 11:00 am-3:45 pm
WHERE: Caesar's Bingo in West Edmonton Mall (under Simons, beside HMV and Chapters)
WHY: Grilled cheese and a great theatre company

For more information about volunteering, please contact Ellen Chorley, Artistic Associate and Bingo Queen at (780) 471-1586 or e-mail nltartisticassociate@gmail.com
Coming Up Next …
THE PINK UNICORN by Elise Forier Edie
February 20-February 28, 2015 (Preview February 19) 
PCL Studio in the ATB Financial Arts Barns 10330-84 Avenue
"How on God's green earth can you be both a boy and a girl?"
- Trisha Lee
Trisha Lee, a Christian widow living in a small Texas town, finds herself grappling with fear, confusion and ostracism when her teenage daughter announces she is "gender queer" and is starting a chapter of the Gay and Straight Alliance at the local high school. When the school principal rejects the GSA's application for inclusion as a school club, Trisha must choose sides in her rapidly dividing town.
For tickets and information visit www.northernlightheatre.com
SUBSCRIBE
TO OUR
E-NEWS!
NLT'S
2014-2015
SEASON!
SUPPORT
LOCAL
THEATRE